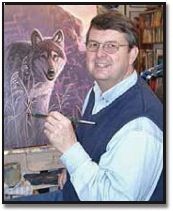 Mark Kortnik is an artist who captures the majesty and power within the magnificent creatures he paints. Through the medium of oil painting, Mark renders these naturalistic representations of wildlife, along with his works of the dramatic landscapes of the Pacific Northwest.
Creative at a very young age, Mark dedicated years to developing his unique skill at painting in oils. After earning a degree in fine arts from Sacramento State University, Mark met his artist wife Carol McLaughlin and moved to Joseph, Oregon, where they continue to run Aspen Grove Gallery, the popular tourist destination's longest-established art gallery.
Mark's work has been featured in "U.S. Art" and "InformArt" magazines for his combination of wildlife and petroglyph images in realistic compositions. He was chosen to participate in the prestigious Western Masters Art Show in Great Falls, Montana, at which he shows his work each year. His paintings have received many first place awards at various art shows. Most recently, he received the 2011 People's Choice ribbon and first place Judges Award for his original landscape oil entitled "Red Willow Winter".